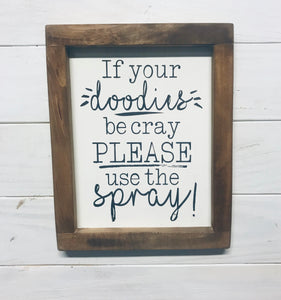 BrienneFarmersMarket
If your doodies be cray Please use the Spray Sign
Regular price
$23.00
Sale price
$39.00
Fun bathroom sign! But really it's true!
This sign is professionally handcrafted, each item we make gets sanded down, hand painted and assembled with hardware for quick out of the box hanging for long time enjoyment.
Colors: The color pictured is white with black lettering and dark stained frame.
Size: 8x10, 12x12

Isn't it fun that no two signs are alike!?! We hand make, paint, stain and apply a lasting finish to each sign by hand. We love wood that is a little imperfect as it makes it have a little more rustic flair and shows the natural beauty.
Custom orders welcome! This was a custom request that we loved so much we included it in our shop!
---
More from this collection